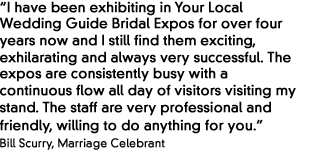 Venue
The Calvary Centre will be the new home for Your Local Wedding Guide Sunshine Coast Bridal Expo from 2018. This high class venue has the space to allow for a high quality fashion parade, 90 exhibitors with 2m deep booths, wedding cars inside and it has a huge undercover veranda for food and coffee vans. The perfect venue to host the Sunshine Coast Bridal Expo!
Fashion Parades

An integral part of the expos are the fashion parades. Parades are the perfect opportunity for couples to view the latest trends in bridal fashion and gather ideas about dressing the bridal party. The parades at Your Local Wedding Guide Bridal Expos are professionally compèred and coordinated using experienced models and entertainers. All participants will be notified prior to the expo of model sizes, fitting and rehearsal times. It is mandatory to attend the fittings and the rehearsal to ensure a professionally produced show. Exhibitors also have the opportunity of providing flowers, accessories and props for the parades.
Database

An additional benefit to you, as an exhibitor, is a database of all the brides that attended the expo. This will be forwarded to you soon after the conclusion of the event. Usually this is e-mailed to you in Excel format however if this does not suit you, please notify us in advance.